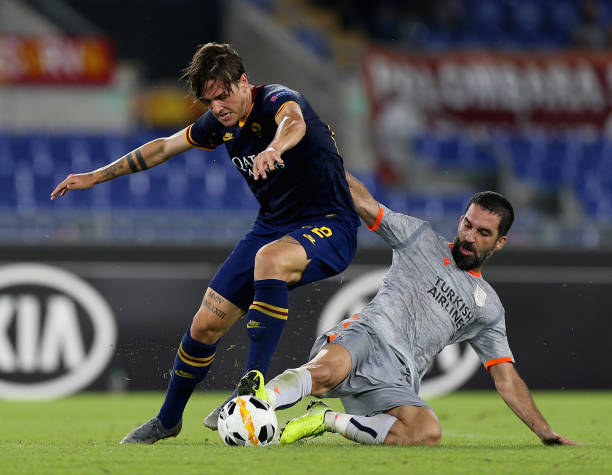 Galatasaray director Erden Timur admitted the club is delighted with their transfer coup signing Nicolo Zaniolo from AS Roma in February.
Timur revealed just how close Bournemouth got to completed the transfer before the move to Galatasaray went ahead.
READ: Top 5 Turkiye national team UEFA European Championship games of all time
Bournemouth reportedly had a €29m+3m offer accepted, AS Roma had agreed to sell Zaniolo just six days before his move to Galatasaray.
The Lions managed to swoop in and sign Zaniolo for just €15m to be paid in instalments over five years after the Bournemouth move collapsed.
Zaniolo revealed that he had been ostracised from the club after rejecting the move to Bournemouth last minute.
"Actually, it wasn't just Bournemouth and Galatasaray, but I was kicked out for not accepting the English club's offer and the fans took it out on me," he said as quoted by Football Italia.
"Some chased me with their car, others came to my house. My family and I were frightened because we felt alone. People were so angry we couldn't talk to them properly. In those days I also turned off my phone because I was getting a lot of bad messages.
"I was disappointed by the reactions of almost everyone. I won't name names, but some said we were like brothers and then they didn't even say hello to me."
Timur told Sky Italia's Gianluca di Marzio, "Last year we invested €90m, but the team finished 13th. The only difference is that we did not have Zaniolo.
"Zaniolo had been sold to Bournemouth for €29m+3m six days before Roma accepted our proposal of €15m, to be paid over five years."
Le parole del vicepresidente del @GalatasaraySK sull'acquisto di #Zaniolo https://t.co/6ui7RtNsSU

— Gianluca Di Marzio (@DiMarzio) March 25, 2023
Galatasaray managed to capitalise as the Turkish transfer window shut later than the Premier League and following the earthquake that devastated the region the transfer deadline was actually extended until 5 March.
Timur also revealed that they had two players on the shortlist, Chelsea's Hakim Ziyech and Zaniolo and that both players were in similar situations.
Both had deals in place to leave in January but had their transfer break down at the last minute.
"In the last days of the market we were looking for a player with those characteristics and we had identified two profiles: Hakim Ziyech and Niccolò Zaniolo," he added.
"For both players it happened that their outright purchase negotiations had broken down and they could have turned out to be cheap bargains.
"We bought players with a higher value than their purchase price. We are working on a 30-year vision in order to clear the debts from previous market years."
The Lions ended up opting for Zaniolo and he went onto score on his official debut for the club.