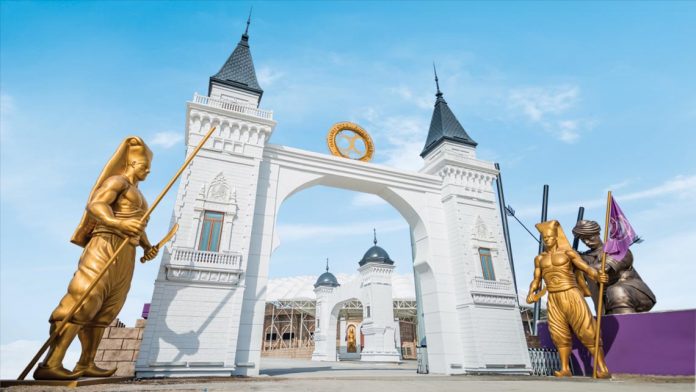 The Ottomans are coming! The rise of Osmanlıspor from the ashes
Author: Thomas Wyer (@tomwyer)
Few clubs better suit their stadiums than do Osmanlıspor, Turkey's most recent offering to the Europa League.
The approach towards the Osmanlı Stadyumu in Ankara, the Turkish capital, is nothing short of imposing. Before passing through an enormous replica of the Gate of Salutation through which centuries of supplicants were admitted to Topkapı Palace in Istanbul, rival teams and spectators alike must pass under the watchful eyes of two members of the Sultan's elite bodyguard. These, the Janissaries, prove unconventional bodyguards of an impressively modern football stadium.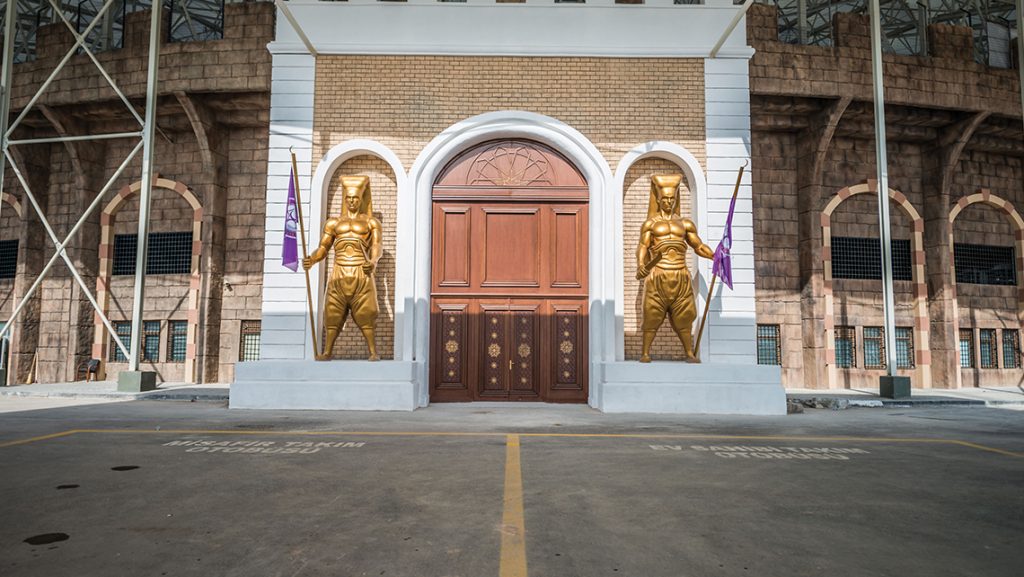 Bedecked in royal purple, Osmanlıspor's stadium is as an intelligible statement of imperial ambition. Renovated in 2008, it captures perfectly the spirit of a club that has risen from the ashes to, this year, compete in Europe's second continental competition. It is a fitting place from which to launch a new Empire.
Last year, competing in Turkey's Süper Lig for the first time in their current guise, Osmanlıspor rocketed to fifth place ahead of national giants Galatasaray to book themselves an unheralded berth in Europe. This year, Osmanlıspor show little sign of stopping. 
Under the tutelage of Mustafa Reşit Akçay, Osmanlıspor have combined league stalwarts like Pierre Webó with imports like Adam Maher, Tiago Pinto and Cheick Diabaté, creating an exciting team with real ability. Were it not for Villareal coming back from two goals down in their last home Europa League game, 'the Ottomans' would have celebrated a continental five-game winning run at the home which they have swiftly built into a fortress.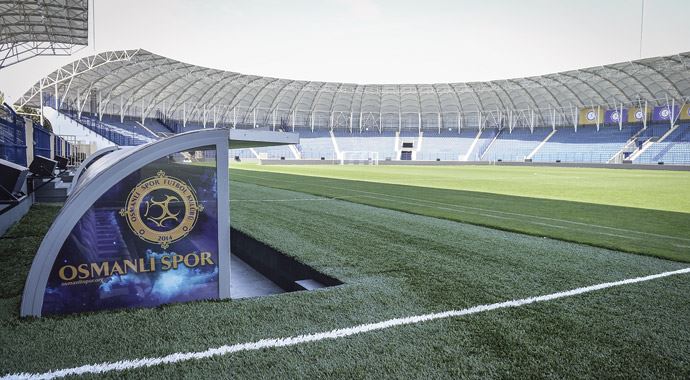 Yet the journey has not been an easy one, and Osmanlıspor have proven as resourceful and resilient as the Empire of Osman for which they are named.
Osmanlıspor are not the biggest team in the capital; unlike Gençlerbirliği they have no tradition of being in the Süper Lig, whilst MKE Ankaragücü – better known to English audiences as the brief home of Darius Vassell – have long been Ankara's most supported club. To cap it all, Osmanlıspor were only truly founded in 2014.
The club's murky origins lie in the beginnings of the twenty-first century, and are intimately tied up with Turkey's tumultuous political scene. The Ottomans trace their descent back to Ankaraspor, whose rise coincided with a crisis at an Ankaragücü team hit by worsening results and financial crisis.
Ankaragücü's honorary chairman, Melih Gökçek, also sits as the capital's mayor – and is a key member of President Recep Tayyip Erdoğan's Justice and Development Party (AKP). As Ankaragücü's plight worsened, questions arose about the close relationship between the two clubs and the extent to which Gökçek was allegedly transforming his own team into a feeder club for the rising star in the capital. But barely a month into the new season, Ankaraspor were thrown from the league entirely.
Reborn as Osmanlıspor in 2014, the phoenix club retains clear links to the Gökçek family. The iconography of the new club seeks to reclaim an Ottoman past to which his party have promoted. This is a new Ottomanism for a new age. Alongside immensely popular television shows celebrating the life of Sultan Suleiman I, and attempts to give the Ottoman era a face lift, a swashbuckling and well-marketed football club cloaked in imperial finery represents a uniquely modern way of chiming with the national zeitgeist.
With the back to back relegations of Ankaragücü in 2012 and 2013 to the third division of Turkish football – from which, after a series of mediocre finishes, they seem unlikely to return – there is real scope for growth at Osmanlıspor. With the financial backing to assemble an enviable squad just three seasons after their foundation and the kind of upward mobility that mid-table city rivals Gençlerbirliği can only dream of, 'the Ottomans' might finally become the club that can challenge the footballing dominance of Istanbul that Anatolia has long been crying out for.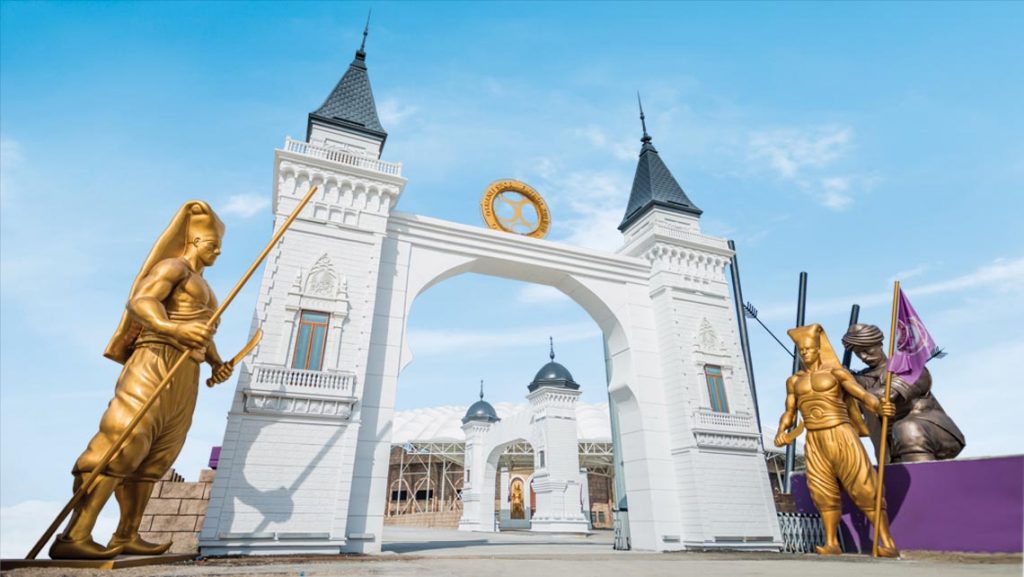 Having convincingly beaten the likes of Zimbru Chișinău, Midtjylland and Steau Bucharest in the Europa League, Osmanlıspor are more than capable of competing on the continent and – as Villareal discovered – pack an element of surprise.
As Raul Rusescu scored his twelfth goal in his last sixteen European games, it was hard to avoid the sense that the Romanian encapsulated Osmanlıspor's entire spirit. 'The Ottomans', who do not boast the kind of star players like Wesley Sneijder, Robin van Persie and Anderson Talisca available to their Istanbul rivals, are greater than the sum of their parts. They are a team of grafters and erstwhile journeymen, punching above their weight yet enjoying the ride.
For Akçay, whose penchant for baseball caps and tracksuits marks him out as some kind of Turkish Jürgen Klopp, this is well-deserved time in the sun. Like his pupils, Akçay has been forced to take the long road through the peripheries of Turkish football to reach his current level. In sixteen years, this is the highest stage upon which he has found himself. He shows no intention of squandering it.
Almost five hundred years after Suleiman the Magnificent conquered vast swathes of Europe in a journey that took him to the gates of Vienna, the Ottomans – albeit in a different guise – are again massing on Europe's frontier. It remains to be seen just how much this new incarnation will conquer. If the Sultans taught us anything, it is that it is unwise to bet against the seemingly impossible.