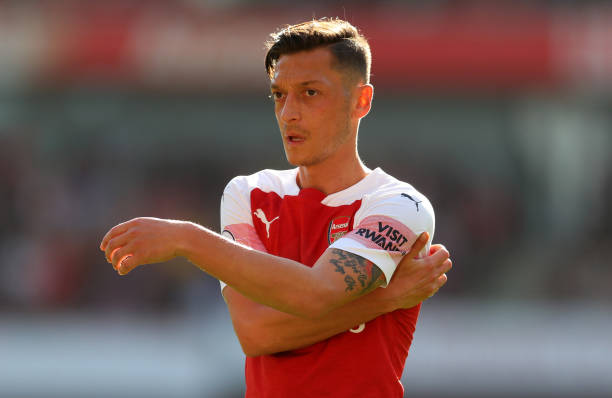 TalkSport presenter Adrian Durham has taken aim at Arsenal and their star playmaker Mesut Ozil during his latest on-air rant.
The Gunners 22-game unbeaten end came to an abrupt end over the weekend following a defeat to Southampton.
Sunday's defeat leaves Arsenal in fifth spot with 34, three points behind fourth-placed Chelsea.
Mesut Ozil returned to Premier League football during the 3-2 defeat to Southampton following an injury lay-off. The ex-Germany international missed over a month of football due to a back problem.
Unai Emery opted to bring Ozil on when the score was 2-2 in a hope to secure all three points. However, the Gunners went on to concede and lose the game.
TalkSport presenter Adrian Durham tore into Arsenal and Ozil after their 22-game unbeaten run ended.
"This is ridiculous," Durham stated.
"There's one good result in this 22-game unbeaten run and that is the one against Spurs.
"One good performance rather- the result against Liverpool is okay, but it is at home.
"It's a 22-game unbeaten run, but it's not that impressive. Let's focus on yesterday's game and go through a few incidents.
"Brings on Ozil to win the game and they lose the game! Don't bring him on."
Arsenal will be hoping to return to winning ways tonight when they take on their biter rivals Tottenham in the League Cup.
The Gunners next Premier League game is up against Burnley FC on Saturday at the Emirates stadium.
Ozil has recently been linked with a move away from the club following reports of a rift between himself and Unai Emery.